Here is a list of questions I have been using to assess  strategies for digital projects to ensure that we are thinking through how multiple screens (tablets, phones, PC's, TV's) will impact the campaign. For more info on this, check out this research from Google 
1) What devices will people use to interact with this project?
Will they be searching for it on their phone or tablet? How will the experience on a PC transfer to a mobile device? How do we tie everything together? On which device will it start on?
2) Will device usage be sequential (phone ->PC) or simultaneous (TV + Tablet)?  
How can we leverage either of these behaviours to increase conversion?
3) How do we target or optimize for multi-screen movement and interactions?
If people are moving from their phone to the computer, how can we make this seamless and simple?
4) How will people discover this project?
Paid media? Social recommendations? Traditional advertising? What devices will they have their first interaction?
5) What is the core objective of each project?
How can each device support or connect this objective?
Bonus - Will multiple devices be used in the decision making process?
Will they research more on a mobile device then transfer to a computer to make a purchase? How does social come into play? Will they research pricing on their phone in situ?
The data is clear. People are viewing websites on their phones, iPads and all sorts devices and they are doing it often. Google predicts that buy 2014 over 40% of web browsing will be done on mobile devices. For businesses and organizations this creates a challenge. The time to develop a mobile optimized site is now, but what is the best way to actually do it?
Users have very little patience and even less so on small mobile screens. Unless you focus your design, users will simply give up on your product before they even know what it can do.  - Marcos Lara
The good news is that technology is making it a lot simpler to create experiences that look great on (most) devices. Luke Wrobelwski, a strong mobile centric advocate, has listed a number of ways that companies are designing for a multi-screen world. Through the use of fluid grids and media query adjustments, responsive design enables web page layouts to adapt to a variety of screen sizes.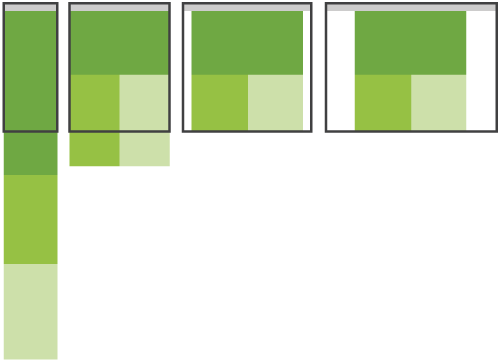 Fig 1. Example of how to make content adaptable on various screen sizes
Luke presents a number of different way to design for the mobile web. I highly suggest you read the entire article- it gives a great rundown.
If you are interested in this topic, here are some additional resources.
Mobile Context - Mark Kirby
Its about people not devices - UX Magazine
Mobile First - Luke Wrobelwski 
Responsive Web Design - A List Apart 
Big events like landing a great client, hiring a new person, or getting mentioned in the press generate a lot of momentum for a business. They create positive growth and make for a great soundbite. 
It's tempting to focus on these sorts of things. They are  tangible and easy and get excited about. But its important to keep them in perspective. The fundamental problem with momentum is that it dissipates over time. Momentum has a short half-life, and it ebbs and flows. One month you are on fire, then next maybe not so much.
Thats why when building a business or a brand, one of the critical components to consider is trajectory. Trajectory is the slope of your growth as it relates to time. The components are often different for each company, but the general it relates to things like revenue, market share and sales growth. Your focus should be to undertake things that make the growth curve steeper, which leads to faster progress.
Momentum events are short-term in nature, while trajectory is focused on long-term progress. It involves looking at the bigger picture and widening your view. This enables you to make decisions in the present that will make a bigger difference in the long term. Or in the words of Walter Gretzky, "skate to where the puck is going"
I get to interact with a lot of great students while on the ACE board. They all have one question, "How do I get a job at an agency?"
Here is how:
Start today
Google your own name. Delete things that are bad (old social media accounts, pictures, YouTube videos, comments on blogs) 
Buy your own name's domain (http://yourname.com) If your name isnt available, come up with something close. This site will help you get started.
Create a portfolio, hosted on that domain. If you are a writer, this means a blog. If you are a social strategist or account executive or anything else, that also means a blog. Art directors, illustrators, copywriters etc, create a portfolio. If you dont know how to create a website, design it in Photoshop, and pay these guys $200 to build it for you. No, seriously. 
If you don't have a portfolio, begin making it up. If you write copy, go write some copy. Illustrators, pick a brand and make an ad. The point of a portfolio is to show what you can do, not what you were assigned in school.
Take this course in Google Analytics. It will make you smarter and more aware of how the web works. It also gives you a certification that you can put on your resume. 
If you a designer, learn how to write basic code. Learn HTML and CSS at Code Academy. This will make you 1000% more hireable immediately. Even a working knowledge is better than nothing. And no, making it in Dreamweaver doesn't count.
Create a Twitter account and start tweeting about the industry. Find a voice, craft some great content. Dont tweet anything stupid. Follow people who you want to work for.
Get a LinkedIn account and add every fellow student and uncle you have. This is for later, but it is good to get a solid head start.
Make your Facebook account private. 
If you do the steps above, you will immediately make yourself more hireable than 99% of students out there. Don't wait until you need a job, start right now.
Martin Weigal is a planner at W+K in Amsterdam. He dropped an absolute opus in his latest post on engagement. I highly suggest reading it if you are in the ad space.
Imagine the nonsense of a case study that say, paraded the number of viewers their Super Bowl spot delivered.

Of course understanding how much the reach was driven by consumer pull and dissemination versus paid for media can give us a sense of how popular, relevant, newsworthy, fame-generating, etc. our content was. If views are being driven by consumers themselves rather than paid-for media, then they are probably an indication that people found our content in some way useful, interesting or entertaining.  

And understanding the reach achieved relative to marketing spend can give us a picture of how efficient the investment was. A million views with a spend behind it of $10,000 after all is very different from a million views supported by $1m. 

But just because you are able to make efficient use of media monies to reach an audience, does not mean you are having a positive impact on a business. Efficient audience delivery is not the same as impact on a business's revenue and profit.

Views and interactions on their own are but an indication that people came into contact with our content.  Yet the way some people speak, you'd think that audience contact was the endgame. Not merely the beginning of something. 
Awesome. Full post can be found here
Here is a quick tip on how to enable emoticons on your iOS5 devices.
Go to settings > General > Keyboard
Select International Keyboards
Choose Add New Keyboard and select "Emoji"
You can then add them to your iMessages or Text messages using the Globe icon that appears.
It will look like this:
Last weekend, my briefcase was stolen out of our vehicle while it was parked outside of a Bed & Breakfast. In the bag was my Macbook laptop. Apparently while I was moving all of our stuff into the house, someone grabbed the bag and ran before I came back.
Because nothing else was stolen or moved around, we didn't even notice it was missing until the following morning. After searching around frantically, it was clear the bag was gone. Elyse suggested we file a police report, so we called the RCMP. (I was pretty sceptical of them finding anything, but we filed it anyway, which later turned out to be essential.)
Needless to say, I was pretty upset that everything was gone.
After driving for a while to our next destination thinking the laptop was long gone, I sort of remembered downloading a tracking program a while back after hearing about Sean Power recovering his laptop after it was stolen. 
I logged in using on my iPhone, and reported the device as missing using the software  Prey. Unbelievably, within 10 minutes, I began getting emails sent to me that looked like the image below. (I blurred the images, as I am not sure about the legality of it all.)
Every 20 minutes, Prey would send me a photo of the guy who stole my laptop, his location, and a screenshot of the websites that we was looking at. The photos also gave a lot of clues about what the house looked like, which was important as well. 
We immediately called the police dispatch, and within a few hours of us reporting everything missing, I was able to give all of the information verbally over the phone to the policewoman. (As an aside, throughout the entire process, the police were 100% responsive and ready for action. The constable we were working with never even saw the data, she just went off of what I said. It was pretty impressive to see. I also found it humorous that they were completely mindboggled that you could track someone in this way)
Anyways, the police went to the location that Prey said the device was located, but the house was deserted and no one answered. Because they didn't have a warrant, they were not able to enter the house.
The email updates had stopped coming, meaning the thief wasn't using my laptop anymore, so we couldn't track it. We resumed our vacation (wine tasting in Naramata, great for stress relief) and waited for the emails to start coming in again.
The next night, he started using the computer. Because he was logged into Facebook, I could see what his name was, his age, and his school through the screenshot. As you can see below, he was even bragging to his friends about buying a 17" laptop for "$2250" and saying that he "bought it"
Getting his name was key, because the police were then able to get the full address of where he lived, and closed in fast. Turned out Prey had the location a bit wrong, so getting his name was key. At this point, the police felt that they had enough information to confront the thieves, and made their move.
It was pretty funny to witness, because after I hung up with the police as they were about to make their move, I received this screenshot.
Note how no one was there anymore? Thats because the police were questioning him.
Both kids made a full confession immediately, and brought up everything that they nabbed. Amazingly, they had got a lot more than I originally thought. In addition to my laptop, I forgot that my camera and iPod were in the bag (yikes) and our GPS unit as well, but they returned everything.
I made the drive back to Kelowna and recovered everything from the policewoman. I was pretty amazed. Everything was in great condition and running fine.
So a big thanks to the Kelowna RCMP and to Prey, which I highly recommend downloading. It is free to use and, as you can tell, works pretty well. 
1) Yes Is More
a book by Bjarke Ingels Group (2010)
Why you should read it: You get a step-by-step view into the creative process of one of the worlds foremost thinkers.
Yes Is More is an "archicomic" created by the visionary architect, Bjarke Ingels. You may have seen his Ted talk on the same topic. (If you are feeling lazy, and want the Coles Notes version, just watch that.)
The book expands on those stories and profiles over 40 of BIG's architectural projects, walking you through the process of revisions, edits and the thinking behind the why.Yes Is More is a manifesto on the creative process, and is filled with insights like this "We as architects respond to accidental challenges through opportunistic improvisation, mutation, and migration of ideas. Often the story we tell after is a product of post-rationalization or hindsight"
2) Where Are People on Facebook?
an article by @baekdal (2011)
Why you should read it: Data based insights into how to make a successful Facebook page.
As I tweeted last week, this article is a must read for anyone involved in managing a Facebook page. The primary sources of the article are two recent whitepapers that hone in on the actual behaviours of Facebook users. If your interested in the data, here are the two studies: Comscore and PageLever
The article is particularly valuable, because it validates many of my assumptions about user behavior on Facebook in relation to brands.
These three specifically:
Invest in content, not in page tabs. People spend a majority of their time cruising the newsfeed, not individual brand pages. Specifically, 48% of the time is spent on News feeds or on other people's profiles, while only 10% is spent in Facebook apps 
While likes are great, they also have a reverse impact on impression levels. "As a page grows, pageviews drop 12x faster than impressions."
Engagement rates needs to be vetted through the number of unique impressions to get an accurate rate. 
"If you have 5,000 fans, and you post something that generates 40 comments, you have an engagement rate of 0.8%. But if you compare the 5,000 fans to the number of unique impressions (9.38%), and then compare that to your engagement, you end up with an engagement rate of 8.5% (*out of the people who see it that day*)."
3) Positioning: How to Be Seen in a Crowded Marketplace 
a book by Al Reis and Jack Trout (1981)
Why you should read it: Its always good to be reminded how important positioning is to any brand.
Deemed a marketing and adverting "classic", Positioning is a short book based of a string of successful articles penned by the authors in the early '80s in Advertising Age. Consisting primarily of case studies, the book walks through how to properly position a product. For example, at one time, Lowenbrau was the most popular German beer sold in the United States, but Beck's established a unique competitive "position" by creating the slogan "You've tasted the German beer that's the most popular in America. Now, taste the German beer that's the most popular in Germany."
4) The King Of Madison Avenue: David Ogilvy and the Making of Modern Advertising
a book by Kenneth Roman (2009)
Why you shouldn't read it: While Ogilvy was a tremendous ad man, responsible for some amazing advertising, the book focuses mainly on the man himself, who was a less than inspiring figure.
I have always been more of a Bill Bernbach fan (and not only because his name is on the building of where I work) But of course, Ogilvy was a tour de force during the golden age of advertising as well, and his work speaks for itself. I was hoping to get insights into the mind of the Ogilvy, and perhaps some old war stories of the time. This book falls short however,  glossing over elements that would have given the reader more insight into why Ogilvy was successful, and instead drilling into the more mundane elements of the his story. Don't waste your time- I found Ogilvy on Advertising to a much better crafted book, which make sense, as it was written by the man himself.
Sherbrooke Liquor Store is a great business in Edmonton selling an amazing collection of beers from around the world (over 900 in fact, the largest selection in Canada)
This sign hangs over a shelf holding several of the more prestigious bottles the store sells (Malheur)
Its worth a full read-through:
The liquor store had clearly received a few questions regarding the expiration date on the beer bottles from customers asking if it affected the product. Rather than slapping a boring sign on the wall or just leaving it be, the store took a proactive route and injected some personality into the conversation.
They catered their messaging to the beer connoisseur (and potential buyer) rather than the often "easily offended" typical customer, and developed a somewhat snappy sign to address the problem. 
Its a perfect example of how a business can communicate to its customers. Don't be afraid to inject some personality into your brand, whether through an email, social media or on the phone. It makes the experience different, and people notice that.
I sure did.
Google+ is impressive.
It's simple, intuitive, and fun to use. It's always easy to spot a great product because people (read: normal, non-techy people) are talking about it and using it. I don't think I have seen such a rapid adoption curve from all facets of my social graph before. 
For the past year or so, my primary social network by usage is Twitter. For me, it delivers the most valuable mix of information and social activity. If I have a few minutes, I always default to scrolling through Twitter first. If I were to roughly break it down, I would say my social time is spent in the following order*
Twitter
Facebook
Instagram
Tumblr
When I really zoom into that list however, a few interesting things emerge:
In reality, the true number one position on that list is actually texting, instant messaging and e-mail (hence why Facebook is hyperfocused on productizing IM and e-mail)
I use Twitter the most because it is the central hub of my social sharing. For example I share my photos via Instagram, music via HypeM, and location via Foursquare. All are separate services, but I use Twitter as a scaling mechanism, because they all tie into the platform. If it wasn't for their integration with Twitter, I wouldn't use them as much.
I would estimate that 80% of my time spent using these services is done via mobile (if not higher) 
So where does that leave Google+ ?
Until it it opens up it's API, which it surely will* , I think it leaves it in a state of limbo.
The primary reason is that I don't really find myself posting things on it, and I suspect I am not the only one. Why post things twice? Most of my social group is on Twitter and I don't want to go through the extra work of replacing Twitter with Google+ as my central social hub. If I can't automagically send the photo I just added to Instagram through to Google+, I probably never will. Once the API is opened up and I can post a single piece of content on multiple media, then it will become much more interesting.
As a marketer, I am also interested in how brands can leverage Google+ . They have already said it will be coming, so look for some interesting developments in the near future. Just look at what Michael Dell is exploring
Interesting times ahead for sure.
For those interested, my Google+ profile is here
Now if you will excuse me, I have to go share this post on Twitter, Facebook, Google+, Buzz, Tumblr…
————-
*I could toss Foursquare and LinkedIn to that mix, but I would classify them more as tools then truly "social"
*Google being smart and letting users get used to posting to G+ first. No point in opening the floodgates yet. Its a business move.
*The other big challenge I see with all social services and one that Google+ addresses the best, is contact management. It's just to difficult to manage and maintain Circles, even though Google made the process as simple as possible. I was going to write more on this, but this blog post outlines exactly what I think in a much more eloquent way http://bit.ly/niIjIc
When a man walks into a room, he brings his whole life with him. He has a million reasons for being anywhere, just ask him. If you listen, he'll tell you how he got there. How he forgot where he was going, and that he woke up. If you listen, he'll tell you about the time he thought he was an angel or dreamt of being perfect. And then he'll smile with wisdom, content that he realized the world isn't perfect. We're flawed, because we want so much more. We're ruined, because we get these things, and wish for what we had.
-Don Draper in AMC's Mad Men
Pre-internet, a person's identity was rooted in things like their relationships, material possessions and job. What they were perceived as was, for the most part, fairly linear. Their reputation was linked to personal relationships, which by their nature are based in consistency and proximity. It takes time to build a good reputation. Don Draper's colleagues knew him as a genius ad man, in control and the best at what he did. And thats really about it. 
In the Digital Age, things are different. The advent of the social web has added two key new dimensions to your identity: Real-time insights and Non-contextual History.
Real-time insights give the observer a feed of information about who we are. Our posts on social media are constant and steady. Your reputation can be ruined in an instant, just ask fashion designer Kenneth Cole.
Our Non-contextual Histories are rooted in the fact that Google surfaces information that is not always categorized and weighted properly. That amazing article you wrote? Page 22 on Google. That tweet you sent out about being in love with Lady Gagy? Page 1.
Regardless of whether we want it to be or not, our public persona is widely available. Facebook, Twitter, and Google paint a historic picture of who each of us is. The tough part? We don't get to pick most of it.
Google surfaces all sorts of gems from our pasts. For a period of about 3 years whenever you googled "Doug van Spronsen" on the second page of results there was a comment I left on a music blog years ago. It wasn't smart, intelligent or representative of the image want to project to the world. But it didn't matter. The primary source of the social world, Google, surfaced that comment as a piece of my defining identity.*
So, to counteract these dimensions, I think people typically follow one of two paths; Either they engage in Digital Apathy or they aim to create a "Digital Super Me"
Digital Apathy is both rapidly fleeting and increasingly irrelevant. Just because you choose not to "opt-in" does not mean that your identity is secure. Your digital trail exists and will continue to grow. Press releases, company announcements, tagged photos and countless other sources serve as consistent markers to your digital identity. Which, of course, is your primary identity.
The other, more common approach is to begin developing what Alex Bogusky coined as the Digital Super Me. From his original post:
A highly-sharable and incredibly robust digital version of our selves that only drinks the best wine, vacations in the finest locales and has the best and brightest children.
We like this, because we have control. What I tweet about, post on Facebook and add to tumblr are the curated versions of my identity. The core challenge however, lies in the fact everything I post is consistently transient. It decays.
In order to maintain our Digital Super Me personas, we have to persistently add and more and more evidence to our social graph. If we don't, our online trail becomes cold. Because of the transient nature of our identity, there is a consistent pressure to continue engaging in the services, lest you let your content grow stale.
I believe that the anxiety that many people feel in regards to their email will eventually spill over to other digital media. For some its already here. The "need" to update Twitter or to blog. It can be stressful and its only increasing.
But its not all bad. The flipside of this anxiety is the access to revolutionary communicational tools and a wealth of information on our fingertips. The good vastly outweighs the bad.
The most important thing is that we become aware of our identity and how the digital world shapes it. To be proactive and aware of what our digital lives say about us, but still realize that in the end, your identity is still tied to who you are, not what you portray.
—
* I tried to find the original post, looks like its been lost to history now. What a shame.
Frequency = Buy rate. (How did our social media activity result in a shift in existing customers' buy rates? Add metrics to support this. Social CRM is ideal, but there are ways to get answers without sophisticated tools.)

Reach = Net new customers. (With social media, this is tied to digital reach through social platforms. How did our social media activity result in the acquisition of net new transacting customers? How many? Where did they come from? What did they buy? Etc.)

Yield = Average value of transactions. (How did our social media activity result in a change in yield? What specific products were touched by this change in behavior? What channels were used? What conditions led to the change? Etc.)
I find driving through cities and towns that have experienced rapid growth somewhat disappointing. The copy-paste laziness of urban planning is frustrating and bland. In the words of Win Butler, 
Took a drive into the sprawl
To find the places we used to play
It was the loneliest day of my life
You're talking at me but I'm still far away
The absence of some constraints (land,) and the proliferation of others (cost of living, zoning) have changed the way many cities look and feel.  Urban sprawl is the default because it is the easiest option. Grow out, rather than up or in.
The modern social web is no different.
The internet was originally fairly constrained for most users. You had to have a computer, a connection, and a working knowledge of the web  to create any content. The converse is true today, its impossible to avoid calls to  "share" or "join the conversation".  Have you ever asked yourself, why would I ever want to  "Like" the Home Depot? 
We create profiles and content because it is easy. Sure I'll join Twitter. YouTube? Why not. Yeah I guess LinkedIn is important. Tumblr is wayyyy better than Blogspot.
The initial investment of a few minutes to sign up is easy, and  its the default action for most. Non-surprisingly these forays into content creation seldom  get past the 'trough of disillusionment'. Now this in itself would not be a problem if it the internet was entropic in nature. In the physical world we start and stop projects all the time. Its a natural human condition to not finish. Just take a look in anyone's shed.
The hitch lies in the fact that the internet doesn't have garage sales every 5 years to clean up. The information lives on, your digital stop/start's never really go away. Most people forget they still have a Myspace account hanging around somewhere or a Photobucket account they never use anymore. 
This is your personal, digital, urban sprawl. 
Be creating disconnected pods of information and content across the online landscape our identity begins to fracture into various  irrelevant parts of who we are. When your name (or username) is searched, the seeker may  see the punk-rock loving HypeM user or the Europe Vactioner on Flickr.  While these findings are  non-threatening in and of themselves, both represent  an incomplete picture at best.
In architecture, one solution to burgeoning  urban environments  is the concept of ecodensity. This approach uses strategic density to create a more sustainable living experience. Essentially, the use of constraints to your advantage.
A similar strategy  would be well-served online.
By shifting from sprawl to density-focused, your digital identity contracts rather than expands. The default switches from "sign-up" to "ignore". Strategic density increases the probability that the information you create will become the particulars that are findable, creating a more complete picture than if left to sprawling chance.
Taking control of your digital identify is not a step, its an ongoing decision framework. Creating content on a limited number of networks and sites gives you more editorial control over your search results and your personal brand.
While inherently more work, the results of a well curated online presence help shape your professional, personal and social reputation. Which, all things considered, is time well spent.